SERUM, SHAMPOO & CONDITIONER with advanced Anti-Hairloss Formula
A clinically proven anti-hair loss system, with certified organic Aloe Vera, Olive Fruit Extract, Almond Oil, Ginger Root, Rose Flower Water, Pure Silk and other highly beneficial oils and natural extracts to help prevent hair loss and stimulate natural hair regrowth. A combination of selected premium active ingredients penetrates deep into the scalp to stimulate hair follicles and keep roots strong while increasing the thickness of individual hair strands.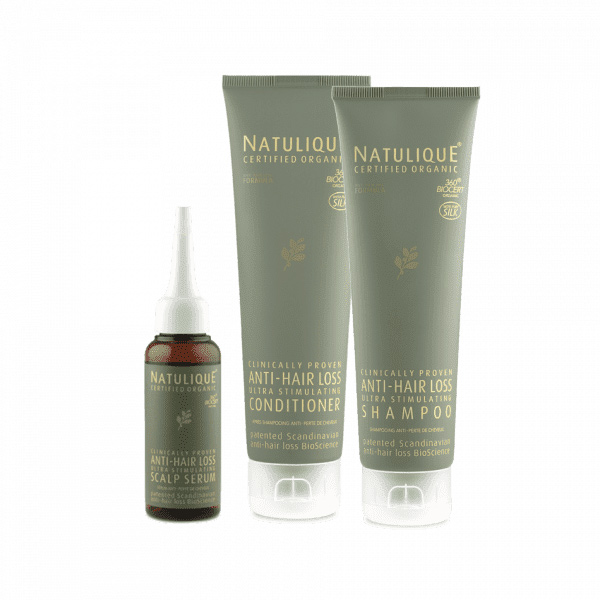 A major cause of hair loss is attributed to DHT (Dihydrotestosterone), a chemical derivative of testosterone. DHT undermines the absorption of essential nutrients. The NATULIQUE Anti-Hair Loss System facilitates the effective communication of cells, holding them together to prevent the effects of DHT. Furthermore, the NATULIQUE Hair Growth System increases blood flow to the scalp, allowing the skin and follicles to be well nourished for increased hair growth and stronger, healthier hair and scalp.
SCANDINAVIAN ANTI-HAIRLOSS BIOSCIENCE
Advanced Scandinavian anti-hairloss BioScience combines Apigenin, Oleanolic Acid and Vitaminated Matrikine at a molecular level for a powerful solution that helps to stop hair loss and strengthen the hair roots while regenerating the hair follicles. To help facilitate long lasting protection and provide reparative effects, added patented Procapil activates the genes responsible for tissue repair mechanisms.
ACTIVE AND BENEFICIAL INGREDIENTS
The NATULIQUE Anti-Hair Loss family contain multiple active and beneficial ingredients. The combination of ingredients nourishes and takes care of scalp and hair. Citrus Aurantium Dulcis (Sweet Orange) Oil, Rosmarinus Officinalis (Rosemary) Leaf Oil, Apigenin, Biotinoyl Tripeptide-1 and Oleanolic Acid are the main active ingredients to stimulate hair growth and clinical tests have shown great results both for hair growth and to thicken hair shafts and the hair.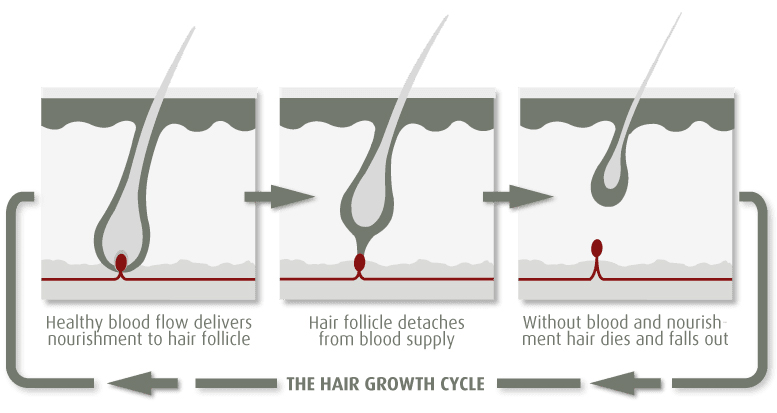 Certified organic and nautral ingredients
Citrus Aurantium Dulcis Oil
Function: Masking
EWG's Skin Deep Score: 1
The ingredient is a volatile oil obtained from the fresh peel of the orange fruit and is rich in Vitamin C. Increases circulation and blood flow to the hair scalp and thereby stimulating hair renewal.
Rosmarinus Officinalis Leaf Oil
Function: Antimicrobial, Masking and Skin Conditioning
EWG's Skin Deep Score: 1
The ingredient is produced from the leaves of rosemary. It contains antioxidants and can stimulate hair growth.
Apigenin
Function: Antioxidant and Hair Conditioning
EWG's Skin Deep Score: 1
Apigenin is a bioflavonoid found in many fruits and vegetables, such as parsley, onions, oranges and chamomile. This flavonoid acts as an antioxidant. Research has shown that apigenin stimulates hair growth.
Biotinoyl Tripeptide-1
Function: Hair Conditioning
EWG's Skin Deep Score: 1
Biotinyl Tripeptide-1 can boost new hair growth more than 100% along with reducing hair loss by more than 50%.
Oleanolic Acid
Function: Skin Conditioning
EWG's Skin Deep Score: 1
Oleanolic acid is a natural component of many plants, such as olive trees, and have antioxidant and antimicrobial effect. Oleanolic acid is often used in hair growth products together with Biotinoyl Tripeptide-1 and Apigenin.
NATURAL AND STIMULATING 4-STEP SYSTEM
NATULIQUE has now improved its ANTI HAIR LOSS system to a NATURAL AND STIMULATING 4-STEP SYSTEM by now offering you a clinically proven food supplement to its range.
Hair vitality, hair growth and hair volume can be affected by related occasional factors such as seasonal changes, stress, fatigue, imbalanced diet, childbirth and emotional shock. With Natulique's 4 step system we are confident we can help you get your hair back on track.
NATULIQUE Anti-Hair Loss Food Supplement provides the hair follicles with essential nutrients, contributes to healthy hair follicles by the use of Biotin (vitamin B8) and provides other essential nutrients further to:
the maintenance of normal hair and scalp*
normal hair and scalp pigmentation*
the normal function of the immune system*
normal functioning of the nervous system*
the protection of cells from oxidative stress*
normal energy-yielding metabolism*
*) Scientifically and clinically documented
A Vitamin and Mineral Based on Food
NATULIQUE Anti-Hair Loss Food Supplement is a clinically proven, stimulating, hair growth solution that effectively stimulates hair follicles. Each box contains 60 gummies with a delicate Black Carrot taste.
Sugar-free
Gluten-free
Lactose-free
Free of preservatives
Free of artificial colours
Free of artificial flavourings
A FERTILISER FOR HAIR GROWTH
Vitamin A
A need for your hair to stay moisturized and healthy
Vitamin C
Creates collagen and helps prevent your hair from ageing
Riboflavin
Activates Vitamin B6 and niacin – a key to hair development
Niacin
Brings oxygen and nutrients to the hair follicles
Biotin
Improves your hair quality, including thickness and shine
Zinc
Plays an important role in hair tissue growth and repair
Copper
Helps to regenerate hair growth and makes existing hair feel thicker
Selenium
Strengthens hair follicles to stimulate hair growth
Together with Natulique 4 Step system and our hair experts we help both Men and women with their hair loss concerns. You can purchase the range in slaon or purchase online.
Book in for a consultation or ask one of our experienced team on how Natulique's clinically proven 4 Step System can help you today.
Call 0208 940 6464