Balayage is a French word that means "to sweep." 'It's a freehand hair colouring technique that gives a really blended, natural look with no harsh or obvious regrowth lines.
Balayage allows for a sun-kissed, natural looking hair colour, with softer, less noticeable re-growth. The principal idea being less is more when creating a natural, multi-tonal finish. The technique uses patches of light and shade to create multiple dimensions to the colour. Over the years, the technique has evolved and become extremely versatile, suited for any hair type from bob to long, straight, wavy or curly with colour results that can be achieved from subtle to bold.
Balayage is quite different to traditional highlights, because typically no foil is used and the colour is painted on freehand. The finished result is less uniform than typical highlights.
Unlike highlights the colour uses a softer application away from the roots and tends to follow natural movement in the hair and so is a sure way to avoid that harsh contrast between natural and coloured hair – especially if you're going blonder.

Michelle Hart, Colour Expert & Salon Owner
Our team of colourists will create a bespoke look complementing your style and can even be placed in a way to compliment or distract attention away from certain features on the face. It's a great method if you want to refresh your colour but don't want a bold overhaul of your look.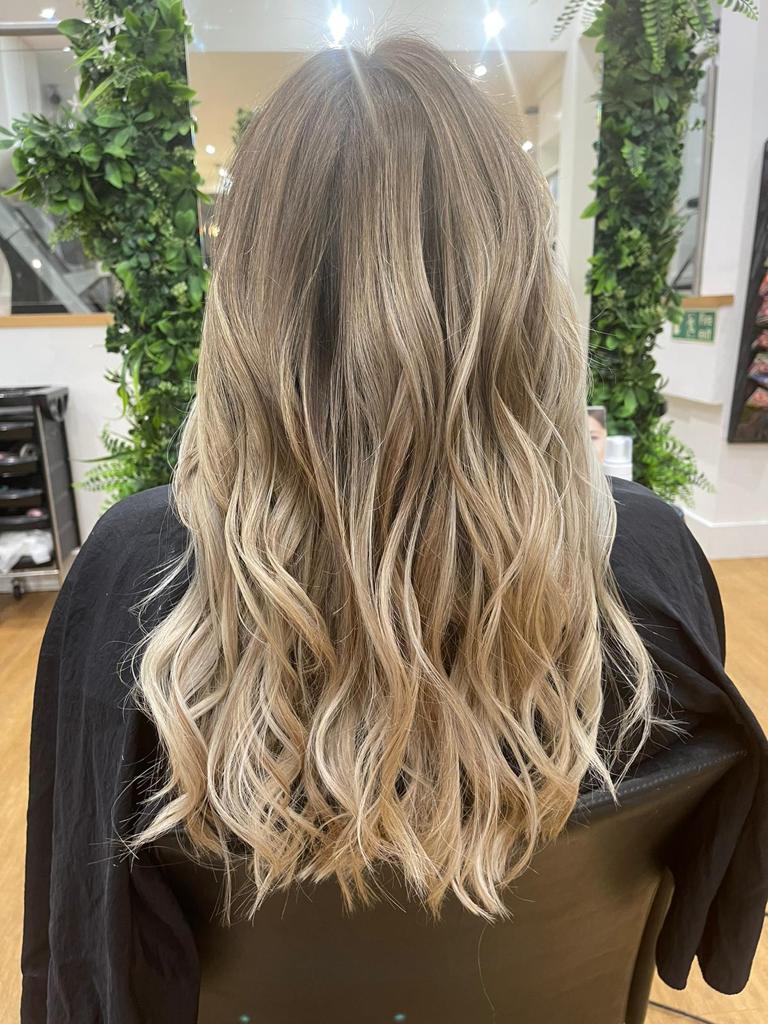 Typically, balayage requires  less maintenance than traditional colour. It grows out beautifully and there are no strong regrowth lines.

Michelle Hart
It does mean you can wait longer between appointments, although the lighter you go, we recommend a refresh toner every 2-4 weeks to keep your balayage looking its best. The more subtle the colour means it's 'the perfect technique for a modern, busy woman.'
What products should I use with my Balayage?
Purple shampoo and conditioners are the must have home care for any blonde colour service to keep any brassy gold tones at bay. Although 2022 promises to see far more golden and caramel tones and either NATULIQUE or OWAY's intense colour mask once a week will keep any hair looking its best, maintaining strength and lots of shine.
How long does balayage last?
One of the biggest perks of this style is that 'it doesn't require as much upkeep as traditional colour,' advises Michelle Hart. As with any hair colour this is dependent on your overall hair goal and result. The lighter you go, the more commitment. The blended finish means in general you can leave longer between your salon appointments. Your colourist will offer personalised advice for when a top up will be required keeping your balayage looking its best.
Balayage can be used with multiple techniques and applications along with other colour services too. To find out which balayage is the best option for you, book in for a consultation with your stylist today to discuss your hair goals.
How do I book a balayage service?
If you are a new client we recommend booking a 1st visit cut and style appointment where we carry out a in depth consultation, analyse hair and scalp, advise and plan your hair journey with tips and home care advice. This appointment includes a detox and nourishing treatment and cut and style.
Book online today or call our team on 0208 940 6464.
More Balayage Examples from Sheen Salon in Richmond